'S WONDERFUL!
The Ray Conniff Page

Mobile/cell phone users please go to
http://mthoenicke.magix.net/public/conniff/index.htm,
rather than www.rayconniff.com, if links do not work .
HARD TO FIND JUKEBOX CLASSICS:
THE 50s
features 31 tracks in true STEREO.
Conniff aficionados will be delighted to find
three of the backings Ray did for

Johnny
Mathis
on this CD:
•
WONDERFUL! WONDERFUL!
•
IT'S NOT FOR ME TO SAY
•
THE TWELFTH OF NEVER
(Item added January 23, 2017)
February 14, 2017: The Ray Conniff Encyclopedia
revised: The Big Band Years, part 1: composers and more details
added.
If you find an entry saying "composer unknown" and can provide
details, please contact me. Thank you!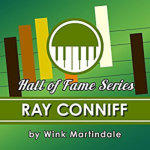 Feb. 23,2017: An interview with Ray Conniff
by Wink Martindale (
about 40 minutes) can be
downloaded as an audiobook by clicking on the
picture on the left. To me, it has been unknown
so far. Enjoy!
Some statements by Ray concerning Johnny
Mathis and his recording of "The welfth of
Never" are also included in another Wink
Martindale interview (36 min).
These audio books are available from Amazon
worldwide.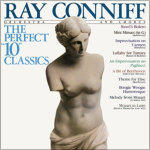 Available from April 7/14, 2017:

THE PERFECT
'TEN' CLASSICS / TV THEMES
as
downloadable albums from Columbia/Legacy.
"Classics" featurs ELEVEN tracks, like the CD
release on the Collectables label in 2008.
"Excerpts from Beethoven's Moonlight Sonata"
counts as a bonus track. In Europe, it replaced
"Ravel's Bolero" because of copyright reasons
when the album was released in Europe .
Other recent official releases from
Columbia/Legacy include RHAPSODY IN
RHYTHM, CONCERT IN STEREO (LIVE AT
THE SAHARA/TAHOE), CONCERT IN
RHYTHM VOL. II, THE NASHVILLE
CONNECTION (with bonus tracks),
HOLLYWOOD IN RHYTHM, AFTER THE
LOVIN' and DANCE THE BOP! As for original
albums with original artwork, click here.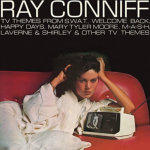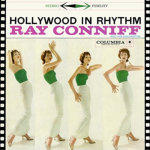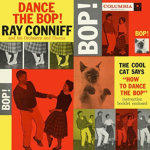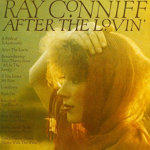 June 1, 2017: This is our new representative for the
United Kingdom:
Steve Clark
36 Spinney Road
BARNWOOD
Gloucester
Glos. GL 4 3 YX
If you want to send him an email, just click on his
photograph.
Thanks, Steve, for filling in for Mike, who passed
away earlier this year.
June 7, 2017:
Last week Doug found a 1991 radio
show hosted by Ray, titled

AMERICA'S
BALLROOM.
It was distributed on two Lps with
program notes. Clemens kindly edited the two
hour show, de-clicked the sound and eliminated
background noise. Ken added some tracks to
the end of the 80 minute special and put in
some transitional jingles between segments so
it's 90 minutes. It will be on
HUMBOLDT 101 on Saturday,
June 10th at 4:00 p.m. PT and
again Sunday, June 11th at 10:00
a.m. - that's 1 a.m. and 7 p.m.
central European time (UK:
Midnight and 6 p.m.). Enjoy!
June 13, 2017:

HUMBOLDT 101

will feature
more radio shows with DJ Ray. The series will
air on consecutive Sundays at 10 a.m. Pacific
Time -

that's 7 p.m. central European time (UK:
6 p.m.). It will start this Sunday, June 18. These
radio shows are from 1990. Every program is 60
minutes and will be aired twice. Listen as
Ray Conniff plays his hand-picked selection of
music from his own repertoire to Johnny Mathis
and Harry James. Airs through August 6.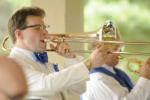 July 1, 2017:
Ray Conniff Memorial Concert
to feature 17-piece big band
ATTLEBORO — A free performance by a 17-piece big
band, the fabulous Dan Gabel and The Abletones, will
climax a tribute to the centennial of Attleboro music
legend Ray Conniff on Sunday, July 16 at Capron Park.
More…
Total website visits
since August 1, 2011:
September 21, 2017:
Click here for a selection of full page
advertisements for Ray Conniff's records,
featured e.g. in Billboard and Cashbox.
On the right: One of the latest additions.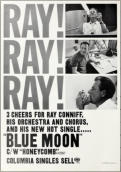 October 4, 2017: NEW SUBPAGE:
Promo material
(flyers, leaflets,
cards)
October 12, 2017:
Today, 15 years ago, Ray Conniff passed away.
Time to remember him by listening to a radio show from 1971 at
http://podbay.fm/show/107142034/e/1256695200?autosta
rt=1
On Monday, November 6, Ray Conniff would
have been 101. In order to pay homage to him,
internet radio station Humboldt101 will be
RAYCONNIFF101
during the preceding weekend. Tune in, listen
and enjoy!
In order to pay homage to Ray on
his 101st birthday, click here for a
slide show of 101 album covers.

Click on the cover scan of Ray Conniff's
4th Christmas album to listen to Christmas
greetings from Ray (recorded in 1962).
December 2, 2017:
Dutton Vocalion is now accepting pre-orders for two more Ray
Conniff SACDs (4 quad albums). Please click on the cover scans
for details.


December 18, 2017:
Some fans received
their copies which
they had ordered two
weeks ago.
For more information on
SACDs featuring both
Stereo and Multi-
Channel sounds, please
visit Doug's Ray Conniff
Page at
www.rayconniff.info.
Sony Mexico released a 3-CD set in their

Tesoros de
Colección
series. The 42 song set sells for about US $6 in
Mexico:
CD1: 1 Besame Mucho 2 Lisbon Antigua 3 The Way You
Look Tonight 4 The White Cliffs of Dover 5 Say It with
Music 6 Feelings 7 Frenesi 8 Love Me Tender 9 Someone
10 Patricia, It's Patricia 11 Strange Music 12 Tammy 13
Moments To Remember 14 Don't Cry for Me Argentina
CD2: 1 Brazil 2 Stranger in Paradise 3 The Poor People of Paris 4 Memories
Are Made of This 5 Memory 6 Paloma Blanca 7 Around the World 8 I've Got
You Under My Skin 9 Early In The Morning 10 Lullaby of Birdland 11 Three
Coins in the Fountain 12 's Wonderful 13 All I Have To Do Is Dream 14 The
Continental CD3: 1 Beyond the Sea 2 Tico-Tico 3 El Condor Pasa (If I Could)
4 Thanks for the Memory 5 Spanish Eyes 6 As Time Goes By 7 Red Roses
For A Blue Lady 8 Something 9 Jamaica Farewell 10 The Whiffenpoof Song
11 Leaving On A Jet Plane 12 Sing 13 Kiss and Say Goodbye 14 September
Song
(Item added December 18, 2017)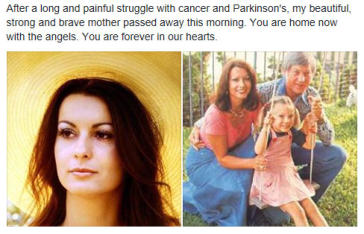 On January 7, 2018, Tamara Conniff published this sad news on her Facebook
page: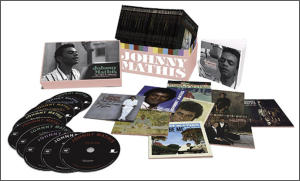 January 21, 2018:
Johnny Mathis fans had to
invest quite a sum in a 68
CD set in December 2017.
Disk No. 67 (titled "Odds &
Ends") features a
previously unreleased
version of "Teacher,
Teacher" with Ray Conniff,
his Orchestra and Chorus.
The version most of us
know was recorded with
Ray Ellis and his
Orchestra.
LO CLÁSICO DE RAY CONNIFF
3 CD set, 60 tracks; Mexico 2018 (SKU:
7509979082206)
CD #1: Bésame Mucho / Brazil / Tico Tico / Too Young /
Temptation / The Way You Look Tonight / Tammy /
Memories Are Made Of This / Green Eyes / That Old
Feeling / As Time Goes By / Young At Heart / Love Story
/ I Only Have Eyes For You / Young Love / I'm In The
Mood For Love / All The Things You Are / You'll Never Know / Softly As In A
Morning Sunrise / What The World Needs Now Is Love
CD #2: Stranger In Paradise / Say It With Music / Only You / Three Coins In
Fountain / It's Been A Long, Long Time / The Song from Moulin Rouge / Love
Is A Many Splendored Thing / I'll Be Seeing You / You're The Cream Of My
Coffee / April In Paris / Somewhere My Love / Sentimental Journey / Dancing
In The Dark / Night And Day / My Foolish Heart / Summertime / 's Wonderful /
Greenfields / These Foolish Things / Unchained Melody
CD #3: La Mer (Beyond The Sea) / I've Got You Under My Skin / The
Continental / Around The World / The Green Leaves Of Summer / It Had To Be
You / Lovely To Look At / The Very Thought Of You / If I Loved You / Smoke
Gets In Your Eyes / I Hear A Rhapsody / Love Me Tender / Lullaby Of Birland /
Lisboa Antigua / No Other Love / Harbour Lights / Volare / Moonlight Serenade
/ Deep Purple / Say It Isn't So
(Item added March 17, 2018)

June 9, 2018: In early May I was granted permission by Tamara Conniff to
examine her dad's diaries and tons of material, such as photographs, vídeos,
audio tapes etc. All the information I collected will gradually go into The Ray
Conniff Encyclopedia. Check it out often for updates, corrections, modifications
etc.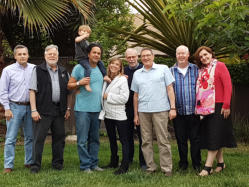 A West Coast
Convention
in May 2018