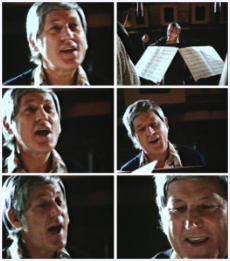 Note: Use the "Video"-link in the menu to find quite a few clips
which have a "Conniff"-tag.
As for a selection of original videos uploaded by me, please click
here.
Below please find a list of commercially available DVDs from
around the world. Please note that some of them are bootlegs and
of inferior quality.

As listed in the "New CD" column (archived
news 2009), Sony Music Mexico released
this boxed set in April 2009 (Sony Music
Mexico 886975234721)
Here is a review by Doug Mitchell:
The box contains 3 CDs and 1 DVD, each
housed in miniature LP-like sleeves with
unique cover photos. (For details see "New
CDs" column.) The sound quality isn't great
on a few tracks and there are other annoying
flaws in the track listing. Here are a couple:
- Smoke Gets In Your Eyes is listed as the
G-Flat version, dated 1981, produced by
Billy Sherrill. The track is really the one from 's Awful Nice, 1958.
- The Way You Look Tonight is dated 1974 and credits the late Mike Berniker
as producer. No, although Mike Berniker did receive an acknowledgment on a
couple of Ray's albums his real claim to fame among Conniff fans is compiling
the dreadful 16 Most Requested Songs disc. This track is from 1957 and was
produced by George Avakian.
For $20 plus shipping, I guess fans can't complain too much. However, Sony
could improve these compilations if they would simply communicate with the
fan club. I'd be happy to send them better quality recordings to use, no charge.
The DVD was produced specifically for this set but features all of the same
clips from Sony Mexico's LAS NUMERO UNO CD+DVD / MIS FAVORITAS
CD+DVD (see below). The videos do not display the song titles which is nice
because "Smoke Gets In Your Eyes" is still listed as "Only You" on the
packaging. This set can be found on eBay. I feel it is worth having, especially if
you don't already have "Las Numero Uno".
Note by Manfred: The set can also be ordered from Mixup Music Store. They
ship world-wide and turned out to be quick and
reliable.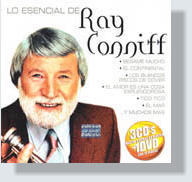 In September 2006 Sony Mexico released a Ray Conniff DVD+CD set titled LAS
NÚMERO UNO (SONY BMG Music Entertainment 886970127899). It is part of a
series that includes many other artists. The CD features 20 tracks, and the DVD
features 15 renditions, filmed in Mexico. Most of the singers and musicians shown are
from Mexico, but also Jackie Allen, Skeets Herfurt and John Best can be seen in
some scenes. (Be warned and prepared for a shock, because the sound is very poor,
and it is a shame that Sony Mexico put such material out.) The set is available
packaged in either a CD jewel case (order No. 886970127721) or a black DVD case
(order No. 886970127899). Here are details:
CD: Besame Mucho / La Mer (instrumental version) / Stranger in Paradise / The
Continental / Green Eyes / Brazil / Frenesi / The White Cliffs of Dover / Tico Tico /
Love Is a Many-Splendored Thing (instrumental version) / Memories Are Made of This
(instrumental version) / Red Roses for a Blue Lady / The Way You Look Tonight /
Three Coins in the Fountain (instrumental version) / Only You / Thanks for the
Memory / I Don't Know How to Love Him / Paloma Blanca (poor quality) / Love Letters
in the Sand / Say It With Music
DVD: Besame Mucho / No Mismo Verao (Pleno Verano) / Green Eyes / Smoke Gets
in Your Eyes (cover erroneously lists "Only You" instead) / Frenesi / The Continental /
Somewhere My Love / Paloma Blanca / Caballo Viejo (video clip from the
"Supersonico" TV show) / Amor / El Dia Que Me Quieras / Ven Con el Alma Desnuda
(from the "Desde Miami con Amor" TV show) / El Africano (El Negro Africano) (from
the "La Vida y la Musica de Ray Conniff" TV show) / Brazil / New York, New York (total
playing time ca. 45 min.)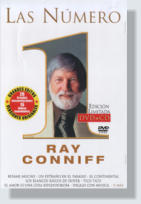 I guess it would have been better if they had released one of Ray's shows videotaped
on location in Mexico instead. The CD/DVD set can be found on ebay as well on the
websites of internet sellers. I got my copy from MIXUP, which turned out to be quick
and reliable. They charged me € 29.00, airmail included, which is about US $ 36.00. It
took 8 days until I obtained my copy.
This is the first official DVD release by Ray. It would have been much better to see a
high quality DVD on the market, featuring e.g. the professionally produced TV show
"'s Always Conniff".
Here are the liner notes:
La música instrumental orquestal adquiere una importante transformación en
ejecución y sonoridad, cuando al comienzo de los sesenta surge en los Estados
Unidos su gran innovador: Ray Conniff.
Un músico de talento inigualable quien conjunta de manera espectacular la
impactante sonoridad de sus metales con la armonía y perfecta ejecución vocal de
sus incomparables coros mixtos.
Y es precisamente en estas épocas cuando surge a la par de este movimiento
musical, el gran descubrimiento electrónico de la década: La Estereofonía, este
modelo de audio, con su separación de sonidos vino a redondear de forma precisa y
fresca el gran despegue mundial de la musica instrumental, con el éxito que ya todos
conocemos.
Es justo mencionar que el maestro Conniff tuvo en el inolvidable músico mexicano
Juan García Esquivel, un importante asesor en la estructura coral de su orquesta, lo
cual comentó siempre con agrado a los medios periodísticos internacionales. Con
enorme gusto presentamos a ustedes este su primer CD/DVD, que agrupa veinte de
sus más grandes éxitos discográficos, que se combinan con quince inolvidables
videos extraidos de sus memorables actuaciones, en los diferentes eventos captados
por la televisión mexicana.
SONY BMG rinde, a través de esta antología sintetizada, un sincero reconocimiento
al más querido y admirado director de orquesta de todos los tiempos: Ray Conniff.
Jorge Ibarra Márquez, SONY BMG México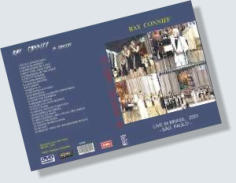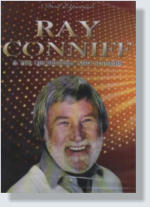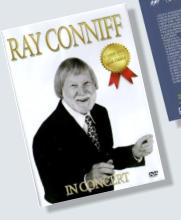 Left: This DVD contains a collection of clips from
YouTube which I uploaded. The song list is incorrect.
You can watch the clips in better quality by visiting
YouTube. Purchase not recommended!
Below:
"Ray Conniff live at Villa Lobos Park" was originally
shown on DirecTV in 1999. The picture quality of all of
these DVDs is very poor, and so is the sound, which is in
mono. In the upper right corner, the logo of "DirecTV" is
hidden with a sign saying "Ray Conniff in Concert".
There are quite a few errors on the cover: "Too Young"
turns out to be "La Mer", and "Meu Querido, Meu Velho,
Meu Amigo" is "Amigo", a totally different song. "O
Velhinho" is not mentioned, etc. Although stated on the
cover that the total length is 89 minutes, it is in fact 67:46
minutes only. The original broadcast originally was 82:42
minutes, and included more songs, such as "Pense em
Mim", the opening number, which is missing on these
DVDs. Purchase not recommended.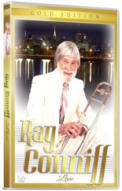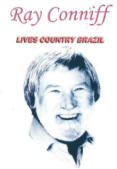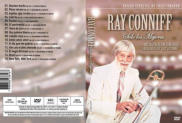 Right:
"Sólo los Mejores"
is the title of an exact replica of the above
mentioned "Las Número Uno" DVD from Mexico
(inclusive of all the wrong details). It became
available in Brazil in November 2013.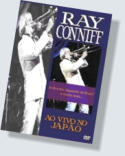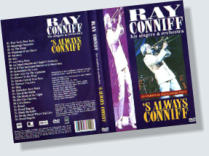 This is a scan of the cover of a DVD my friend William Saxer bought in Brazil in
January 2007. This looks very much like an official release, but I was advised that
this wasn't. (Label says: Columbia / Legacy / NTSC / Dolby Digital / Country Code:
None / Made in Argentina)
In May 2009 this DVD was
discovered on the Internet.
Again, this is no official
release,
and the source must have
been a VHS cassette.
Note: Ray's only commercial video releases were
"'s Always Conniff" on VHS (NTSC, Brazil), the above "Lo
Esencial"-DVD from Mexico and "The Ray Conniff Christmas
Show"-DVD (available from public television stations in the US
since 2014).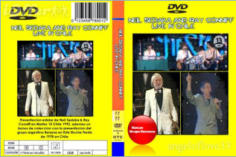 Below: This DVD appears to be identical with the one
from Mexico described above ("Las Número Uno").Click
on the cover scan for details.
"Neil Sedaka and Ray Conniff live in Chile". According to my files, Ray appeared on
"Martes 13" in 1994, not 1992. The songs performed were "New York, New York",
"Escandalo", "Besame Mucho" and "Brazil". The original broadcast also included a
10 minute interview. This is not included in this DVD. Both picture and sound quality
are surprisingly good. I paid US $ 16.00 for my copy, inclusive of registered airmail.
(Neil Sedaka, by the way, never recorded or appeared onstage together with Ray.)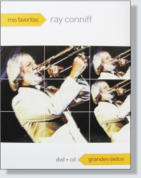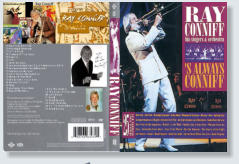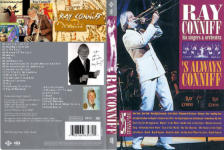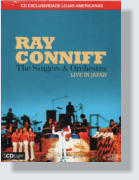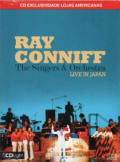 left and right: 2018 bootlegs
DVD